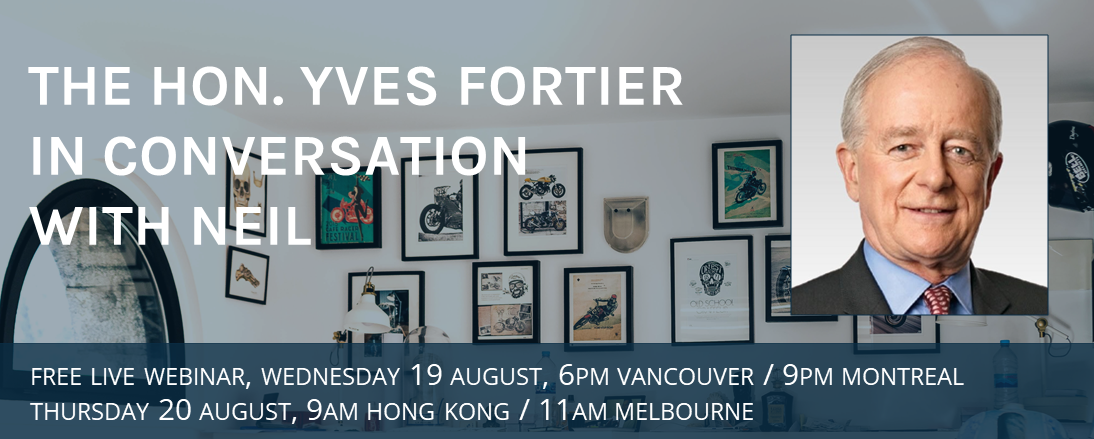 Date
20 August 2020
Expired!
Time
3 h 00 min - 4 h 00 min
In conversation with Neil – The Hon. Yves Fortier, PC, CC, OQ, QC
Neil Kaplan CBE QC SBS and Chiann Bao hosted The Hon. Yves Fortier. The recording is available here.
The Honourable L Yves Fortier, PC, CC, OQ, QC is a graduate of Université de Montréal, McGill University and Oxford University (Rhodes Scholar). He became a member of the Quebec Bar in 1961 and joined the firm of Ogilvy Renault in Montreal where he practiced as a trial lawyer before all courts in Canada, arbitral tribunals and as counsel for Canada, before the International Court of Justice. Mr. Fortier was Chairman of the firm (now Norton Rose Fulbright) until 2011 when he left to found his own boutique, Cabinet Yves Fortier, where he practices today as mediator and arbitrator.
Yves is a past President of the Canadian Bar Association and the London Court of International Arbitration, Chairman of two Panels of the United Nations Compensation Commission, judge of the Claims Resolution Tribunal for Dormant Accounts in Switzerland, and judge ad hoc of the International Court of Justice. From July 1988 until February 1992, he was Canada's Ambassador and Permanent Representative to the United Nations in New York. In 1989, he was president of the Security Council of the United Nations. During the last 30 years, Yves has acted as arbitrator and mediator in numerous international arbitrations under the auspices of all major arbitral institutions in the world. Yves is a member of the ICCA Advisory Board and past member of the ICSID Panel of Arbitrators. From 2012 to 2015, Yves was Chairman of the Sanctions Board of the World Bank. In 2013, he was appointed as a member of the Security and Intelligence Review Committee of Canada and sworn in as a member of the Privy Council of Canada. In July 2016, he was appointed Chairman of the Enforcement Committee of the European Bank for Reconstruction and Development (EBRD).
Find out more about Neil Kaplan, Chiann Bao and the In conversation with Neil series here, and browse past 'conversations' here.