---
---
DELOS SUPPORTS ARBITRATION PRACTITIONERS AND IN-HOUSE COUNSEL WITH EFFECTIVE ACCESS TO KEY INSIGHTS
---
WELCOME TO THE GAP HEADNOTE SERIES
Join curators Janice Feigher and Vee Vian Thien for weekly insights into arbitration case law from around the globe.
Each episode features a jurisdiction covered in Delos's Guide to Arbitration Places (GAP), with a short discussion of significant case law by the chapter authors for that jurisdiction and a member of the GAP peer-review group, and opportunities for networking. These Headnotes are part of the GAP event series A Case In Time.
Episodes last 30mn (incl. Q&A), and take place every Thursday (save for the last Thursday of the month), at 3pm ET, CET or HKT/SGT, depending on the time zone of the speakers. Recordings of past episodes can be viewed here.
Forthcoming episodes:
Episode 9 on 21 September - Germany forthcoming.
Episode 10 on 5 October - Austria forthcoming.
Register below for upcoming Headnote episodes and other Delos news:
#ACaseInTime #GAPHeadnotes 

---
MEET YOUR GAP HEADNOTE SERIES CURATORS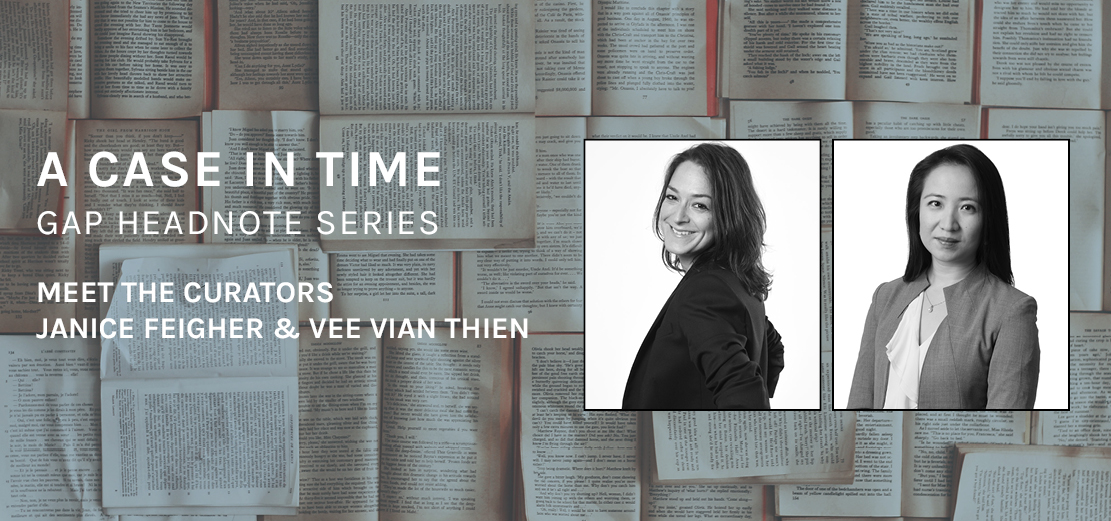 Janice Feigher is a dually qualified lawyer (Avocat, Paris and Solicitor, England & Wales) trained in both civil and common law. She has over 18 years of experience practicing international arbitration, court litigation and mediation. She accepts missions as counsel or as arbitrator. She has appeared in arbitration proceedings governed by the arbitration rules of ICC, ICSID, AFA, OHADA, UNCITRAL and SCC, before or alongside the most reputable arbitrators. She has specific expertise in the fields of energy, mining, infrastructures, aeronautics, shareholder disputes, international sale of goods, insurance and telecommunications. She was also seconded to the in-house dispute resolution department of a leading European player in the field of energy. Janice has been recognised as a Rising Star in arbitration in the 2015 and 2016 editions of Legal Media Group's Experts' Guide and has been featuring in the Future Leaders section of the Who's Who Legal Arbitration since 2018. Janice Feigher acts in the earlier stages of the dispute resolution phase of contracts or projects to prevent or manage the risks inherent to the activities of large corporations and SMEs (M&A litigation audit, project management, drafting of dispute resolution clauses). Whenever possible, she encourages and facilitates the negotiation of amicable solutions. Janice is the author of several publications and regularly speaks in conferences in the field of international arbitration. She teaches Command of arbitral proceedings in the Université Paris Saclay. She is the Secretary General of the Comité Français de l'Arbitrage. She was also a co-chair of the CFA40 from 2017 to 2020. Janice co-heads the Observatoire des Pratiques du Règlement d'Arbitrage CCI of ICC France since October 2022. She is a member of the scientific committee for the GAP Headnote Series of Delos Dispute Resolution. Before founding Feigher Dispute Resolution, Janice Feigher worked in the international dispute resolution departments of Clifford Chance, Castaldi Mourre & Partners and Norton Rose Fulbright in London, Rome, Milan and Paris. She is a fluent French, English and Italian speaker and conducts proceedings in these three languages. Feigher Dispute Resolution also offers tailor-made one-to-one sessions of public speaking coaching in French and in English. Follow on LinkedIn.
Vee Vian Thien is a senior associate with Three Crowns, London specialising in international arbitration. She has acted in arbitrations held under a variety of rules (ICC, LCIA, SIAC, HKIAC, UNCITRAL, JCAA, DIFC-LCIA and ICSID) in London, Singapore, Japan, Dubai and Hong Kong. Her experience includes representing clients, both states and companies, in Asia and Europe across a wide array of business sectors, in particular oil & gas, energy, construction, automobile manufacturing, biotechnology and real estate development. Viv also has particular experience of litigation before the English, Indian and Singapore courts, including obtaining anti-suit injunctions in support of arbitration and enforcement of arbitral awards. She is admitted to practise in England & Wales, is a New York attorney and is registered as a foreign lawyer in Hong Kong. Viv is regularly invited to speak at conferences and deliver lectures. Follow on LinkedIn.