---
INTERNATIONAL ARBITRATION
DELOS IS AN INDEPENDANT ARBITRATION INSTITUTION THAT PROVIDES AN INNOVATIVE APPROACH TO COMMERCIAL DISPUTE RESOLUTION
---
The Delos Board of Advisors is composed of global leaders in the field of international arbitration and dispute resolution.
Geographically diverse, pragmatic and user-focused, they advise Delos on the full range of its activities, endeavours and initiatives, and further support the institution through shared values of excellence, integrity and independence. In this manner, they also act as an ethics committee, with whom we validate our Rules and key processes.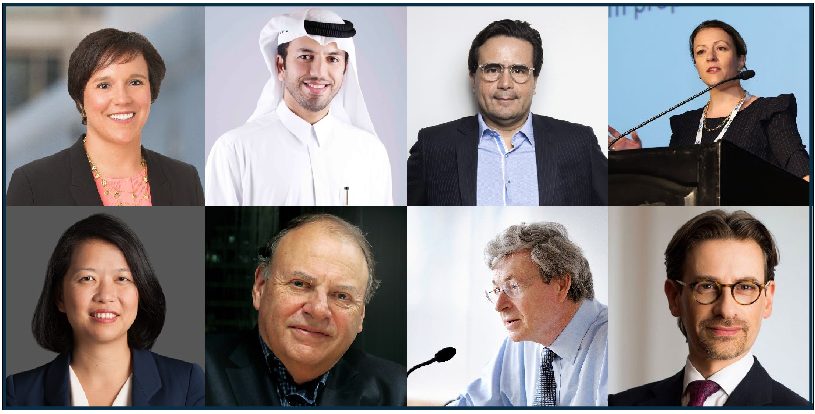 ---
Jose Daniel Amado
Jose Daniel Amado is the founding partner of Miranda & Amado in Lima, Peru.  Mr Amado graduated with greatest honors from the Pontificia Universidad Católica del Peru, where he has taught domestic and international arbitration for the last two decades.  He holds an LLM from Harvard University, where was awarded the Laylin Prize of international law.  As counsel, Mr Amado has participated in many of the largest business transactions and commercial and investment disputes involving Peru in the last few decades.  In 2009, Latin Lawyer magazine named Mr Amado as its Law Firm Leader of the Year.  Mr Amado has also served in various capacities within the Government of Peru, including as deputy to the prime minister and chief of advisors to the council of ministers.  Mr Amado regularly sits as an arbitrator in Peru and other venues, and has been a member of the Court of Arbitration of the Lima Chamber of Commerce.  In recent years, Mr Amado has been a Visiting Fellow and a Visiting Scholar at the Lauterpacht Centre of International Law and the University of Cambridge's Centre for Latin American studies.  His recent publications include Arbitrating the Conduct of International Investors (Cambridge University Press, 2018).
Dr. Hassan Arab
Dr. Hassan Arab is the deputy managing partner and Co-Head of Litigation in Al Tamimi & Company.  He is a leading expert in all aspects of civil, commercial litigation and dispute resolution. Dr. Arab regularly sits as an arbitrator and advises on arbitration-related issues. He has extensive experience in providing expert opinions on the UAE laws before arbitration tribunals and foreign courts. He is on the panel of arbitrators for ICSID, ICC, SIAC, DIFC-LCIA, CRCICA, AIAC, DIAC and TAHKEEM. Dr Arab is a Vice-Chair of the Steering Committee of the ICC-UAE Commission on Arbitration and a member of the future Arbitration Court of the Casablanca International Mediation & Arbitration Centre. He is also a member to the ICC Commission on Arbitration and ADR and a member of the DIFC Court User's Committee. He is the author and co-author of a number of publications on arbitration and dispute resolution. In addition, Dr. Arab has authored several books including two volumes of the Civil Procedures Law in the UAE, Criminal Procedures Law in the UAE and has co-authored Summaries of UAE Courts' Decisions on Arbitration (ICC publication).
Neil Kaplan CBE QC SBS _ President
Neil Kaplan has been a full-time practising arbitrator since 1995.  He has been involved in several hundred arbitrations as arbitrator.  Called to the Bar of England in 1965, Mr. Kaplan has practiced as a barrister, Principal Crown Counsel at the Hong Kong Attorney General's Chambers, and served as a Judge of the Supreme Court of Hong Kong in charge of the Arbitration List. He was Chair of the Hong Kong International Arbitration Centre (HKIAC) for 13 years and President of the Chartered Institute of Arbitrators (CIArb) in 1999/2000. Since 2017 he has been the President of the Court of the Mauritius Chamber of Commerce and Industry Arbitration and Mediation Centre (MARC).
Toby Landau QC
Toby Landau QC is a barrister and arbitrator, and a member of the Bars of England & Wales, Singapore, New York, the BVI and Northern Ireland, and is registered in the DIFC.  He was the first QC to be admitted as a full member of the Singapore Bar, and practices from Essex Court Chambers in London, and Essex Court Chambers Duxton in Singapore.   As Counsel he has argued hundreds of major international commercial and investor-State arbitrations, as well as many ground-breaking arbitration cases in the Courts of England, Singapore, Pakistan and the Caribbean.  As Arbitrator, he has extensive experience sitting in commercial and investor-State disputes worldwide. He is Visiting Professor at Kings College London; Court Member of the LCIA and the SIAC; Fellow of the CIArb; UK delegate to the UNCITRAL Working Group on Arbitration (1994-2013); and a draftsman of the English Arbitration Act 1996; the Pakistan Arbitration (International Investment Disputes) Ordinance, 2006; the Mauritius International Arbitration Act 2008, as well as many institutional rules. He holds a first-class law degree and a first class BCL from Oxford University (Eldon Scholar), and an LL.M. from Harvard Law School (Kennedy Scholar).
Professor Pierre Mayer _ Honorary President
Prof. Pierre Mayer acts as an independent arbitrator and occasionally as counsel. He was previously a partner at Dechert, after having spent many years as counsel at Coudert Brothers and Clifford Chance. He was formerly the President of the International Academy for Arbitration Law, the President of the French Committee on International Private Law, the President of the Committee on International Commercial Arbitration of the International Law Association (ILA) and the President of the Committee on Private International Law of the Union Internationale des Avocats (UIA). Prof. Mayer also taught arbitration, international law and contract law for close to 30 years at the University Paris-I Panthéon Sorbonne. Prof. Mayer is a Council Member of the ICC Institute of World Business Law and an Associate Member of the Institut de Droit International.
Ank Santens
Ank Santens is a partner in White & Case LLP's international arbitration group, based in New York.   She serves as counsel or arbitrator in commercial, investment, and construction arbitrations around the world.  She has been named a Thought Leader (Who's Who Legal Thought Leaders 2018), Most Highly Regarded Individual (Who's Who Legal Future Leaders 2017), Best in Commercial Arbitration (Euromoney's Americas Women in Business Law Awards 2016), and Global Rising Star of the Year (Euromoney's Global Arbitration Awards 2014).  She is a Vice Chair of the IBA's Arbitration Committee, and serves on the Board of Directors of CPR and on the Executive Committee of the Foundation for International Arbitration Advocacy (FIAA) and the Institute for Transnational Arbitration (ITA).  She was a member of the ICCA-Queen Mary Task Force on Third Party Funding.  She frequently lectures and publishes on international arbitration topics.  During her tenure as Chair, the CPR Arbitration Committee published "The CPR Corporate Counsel Manual for Cross-Border Dispute Resolution" (2017).  Ms. Santens holds law degrees from Columbia University (NY) and Catholic University of Leuven (Belgium), and studied one year at the law faculty of the University of Granada (Spain).  She is a member of the New York bar and a Solicitor of England and Wales.  Her working languages are English, French, Spanish and Flemish/Dutch.
Professor Maxi Scherer
Prof. Maxi Scherer is Special Counsel at Wilmer Cutler Pickering Hale and Dorr LLP and regularly sits as arbitrator. She also holds the Chair for International Arbitration, Dispute Resolution and Energy Law at Queen Mary, University of London, and is Queen Mary's Director of the Centre for Commercial Law Studies in Paris and of the LLM in Paris programme. Prof. Scherer further acts as the General Editor of the Kluwer Journal of International Arbitration. In addition, Prof. Scherer chairs the Delos Guide to Arbitration Places (GAP). She was previously Global Professor of Law at NYU Law School, Visiting Professor at SciencesPo Law School Paris and Adjunct Professor at the Georgetown Centre of Transnational Legal Studies. 
May Tai
May Tai is the Managing Partner, Asia, at Herbert Smith Freehills. She specialises in cross-border China-related and regional Asian disputes, as well as contentious regulatory matters. She regularly advises governments, government-owned entities and commercial clients (including financial institutions and energy companies) in Asia, Europe and the United States, including acting as counsel and advocate in arbitrations under various rules and court proceedings.  She has acted as arbitrator in SIAC and HKIAC proceedings, and has also sat as an Emergency Arbitrator under the ICC Rules. May speaks five languages fluently, including Bahasa (Malaysian and Indonesian), Chinese (Mandarin and Cantonese) and English. She is a CEDR accredited mediator and an arbitrator in the HKIAC List of Arbitrators, and is qualified as a solicitor in England and Wales, and Hong Kong. May is based in Hong Kong but divides her time between Herbert Smith Freehills' nine Asia offices in her role as managing partner for the region.