---
A RESPONSIVE AND DYNAMIC INSTITUTION
DELOS COMBINES QUALITY AND FLEXIBILITY WITH TIME AND COST EFFICIENCY TO HELP REDUCE RISK FOR BUSINESSES GLOBALLY
---
Delos appreciates that its users need to have predictability regarding the costs that may be required to resolve a dispute. The Delos procedure is designed to reduce these costs wherever possible.
Delos determines the costs of the arbitration based on the total value in dispute and its expected complexity (Article 14 of the Rules). The minimum cost associated with a Delos arbitration is EUR 1,200 (before any VAT), payable in equal shares by Claimant and Respondent. The EUR 450 filing fee paid by Claimant with its Notice of Arbitration is included in the costs of the arbitration.
The Delos time and costs schedule is set out at Appendix 7 to the Rules and reproduced below. It provides for twelve cost bands according to the value in dispute and has been in force since 1 November 2021. Parties may benefit from a 5% reduction on these costs if they have sent their relevant contract(s) to Delos for registration within six months of signature of the contract(s), subject to the applicable floor (the reduction may not result in arbitration costs below the applicable floor).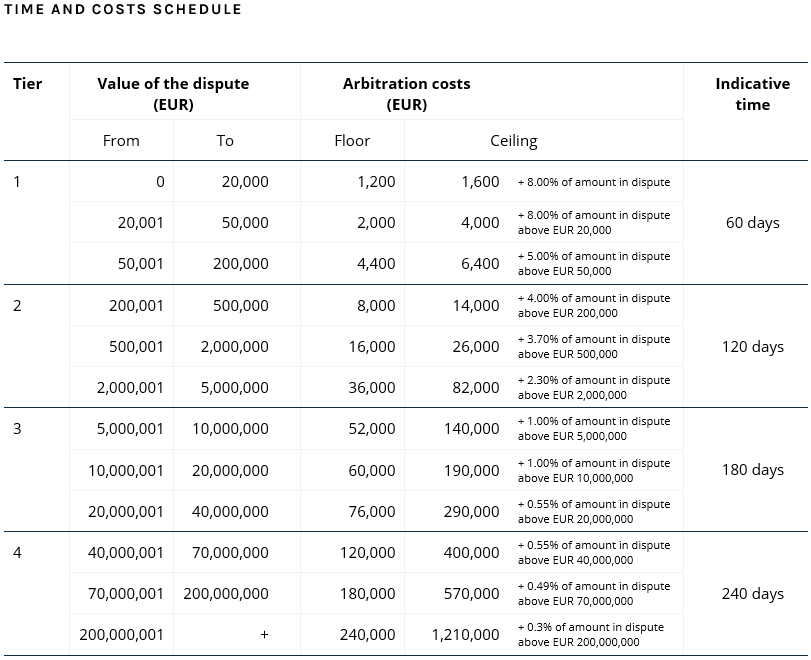 In addition to cost-efficiency, parties require disputes to be decided as quickly as circumstances permit, as any delay in resolving the dispute may lead to additional commercial or financial difficulties or risks.
The Delos time and costs schedule provides an indicative time of the duration that Delos will set for tribunals to hear and determine key issues and to produce a draft award. 
This indicative time is a useful guide for parties to estimate the time that may be required to obtain the final resolution of their dispute, which will additionally include the initial period to commence the arbitration and form the tribunal, and the final period for Delos to review the draft award.
Finally, if there is any significant change during the arbitration in the claims of the parties, the complexity of the dispute, the anticipated time and expenses incurred by the Tribunal and/or the conduct of the arbitration, Delos may adjust the arbitration costs. Delos may also do so if the parties depart from its model clauses (see Articles 14.3 and 14.7 of the Rules).