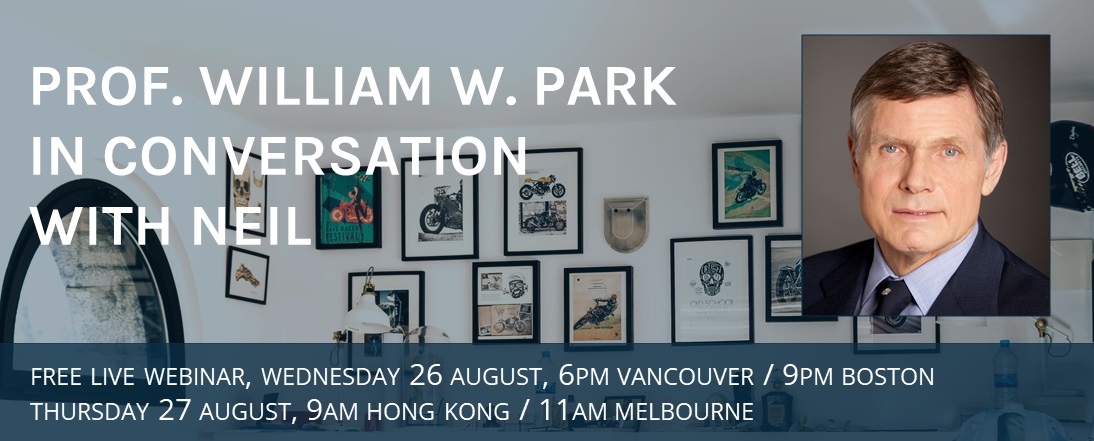 Date
27 August 2020
Expired!
Time
3 h 00 min - 4 h 00 min
In conversation with Neil – Prof. William W. Park
Neil Kaplan CBE QC SBS and Chiann Bao hosted Prof. William W. Park. The recording is available here.
Prof. William W. Park is a Professor of Law at Boston University and teaches in the areas of tax, finance and conflict of laws. After studies at Yale and Columbia, Prof. Park practiced in Paris and Geneva until returning home to direct the University's Center for Banking Law Studies.
William Park is General Editor of Arbitration International and former President of the London Court of International Arbitration. Visiting academic appointments include the universities of Auckland, Cambridge, Dijon, Geneva and Hong Kong. Park served on the Claims Resolution Tribunal for Dormant Swiss Bank Accounts and the International Commission on Holocaust Era Insurance Claims, as well as the Panel of Arbitrators for the International Centre for Settlement of Investment Dispute. Park is an Honorary Fellow of Selwyn College, Cambridge, and a Trustee of King's Chapel, Boston. His books include Arbitration of International Business Disputes, International Forum Selection, ICC Arbitration (with Craig and Paulsson), International Commercial Arbitration (with Reisman, Craig and Paulsson) and Income Tax Treaty Arbitration (with Tillinghast).
Find out more about Neil Kaplan, Chiann Bao and the In conversation with Neil series here, and browse past 'conversations' here.