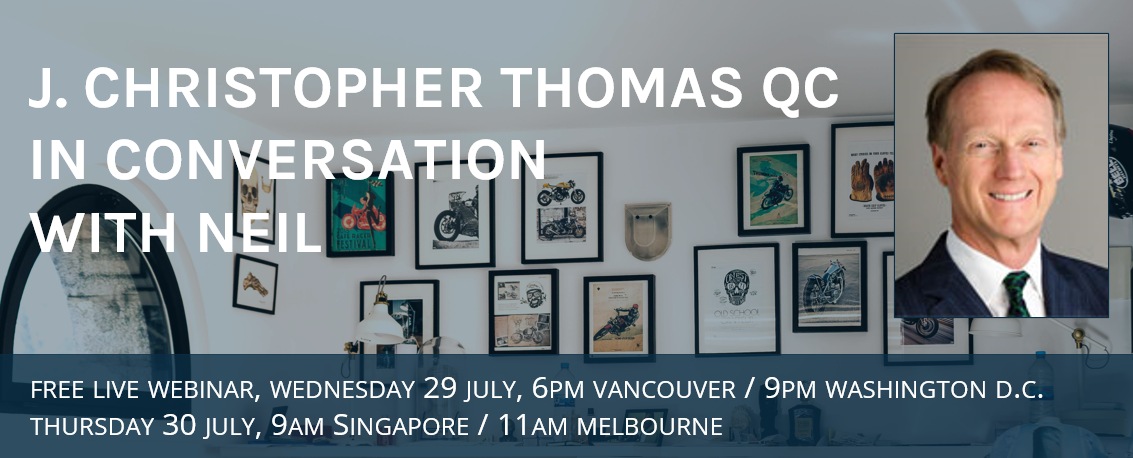 Date
30 July 2020
Expired!
Time
3 h 00 min - 4 h 00 min
In conversation with Neil – J. Christopher Thomas QC
Neil Kaplan CBE QC SBS and Chiann Bao hosted J. Christopher Thomas QC. The recording is available here.
J. Christopher Thomas QC practices in the field of international trade and commercial law with an emphasis on trade and investment regulation and dispute settlement. After six years at the National University of Singapore's Centre for International Law, he returned to Vancouver where he continues to practice as an international arbitrator. He has been counsel in many international disputes, in domestic administrative law procedures (anti-dumping and countervailing duty cases), and in contentious proceedings before the superior courts of Canada. From March 1993 until June 2008, he ran the law firm of Thomas & Partners. Since that time, he has been a sole practitioner, acting primarily as an arbitrator in international investment, trade and commercial disputes. He is Editor of Investor-State LawGuide, an on-line legal research database on investment treaty arbitration law.
Find out more about Neil Kaplan, Chiann Bao and the In conversation with Neil series here, and browse past 'conversations' here.