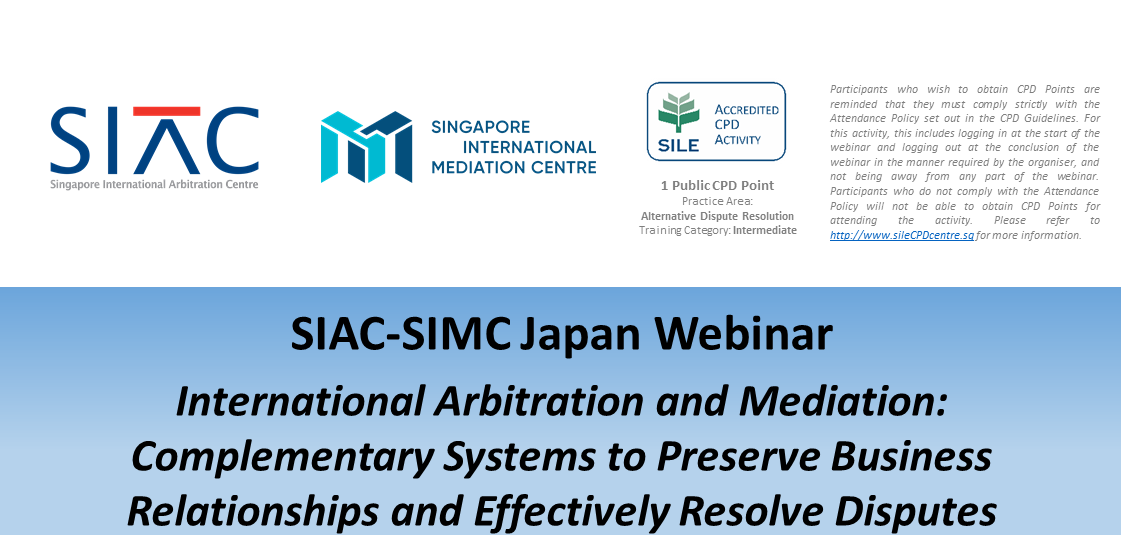 Date
08 June 2021
Expired!
Time
CEST
10 h 00 min - 11 h 15 min
SIAC-SIMC Japan Webinar: International Arbitration and Mediation: Complementary Systems to Preserve Business Relationships and Effectively Resolve Disputes
Arbitration and mediation are important dispute resolution mechanisms for cross-border transactions. With the recent entry into force of the Singapore Convention on Mediation, international mediation will take on even greater significance as mediated settlements gain broad international enforceability.
This webinar will discuss how arbitration and mediation can help parties preserve their business relationships while ensuring effective and efficient dispute resolution. With a particular focus on cross-border disputes involving Japanese parties, experienced panellists will discuss the key benefits of arbitration and mediation, the SIAC-SIMC Arb-Med-Arb Protocol, tactical considerations when using multi-tiered dispute resolution, and the use of experts in both proceedings.
Join SIAC for the above event on 8 June at 10am CEST/ 4pm SGT. Register here.