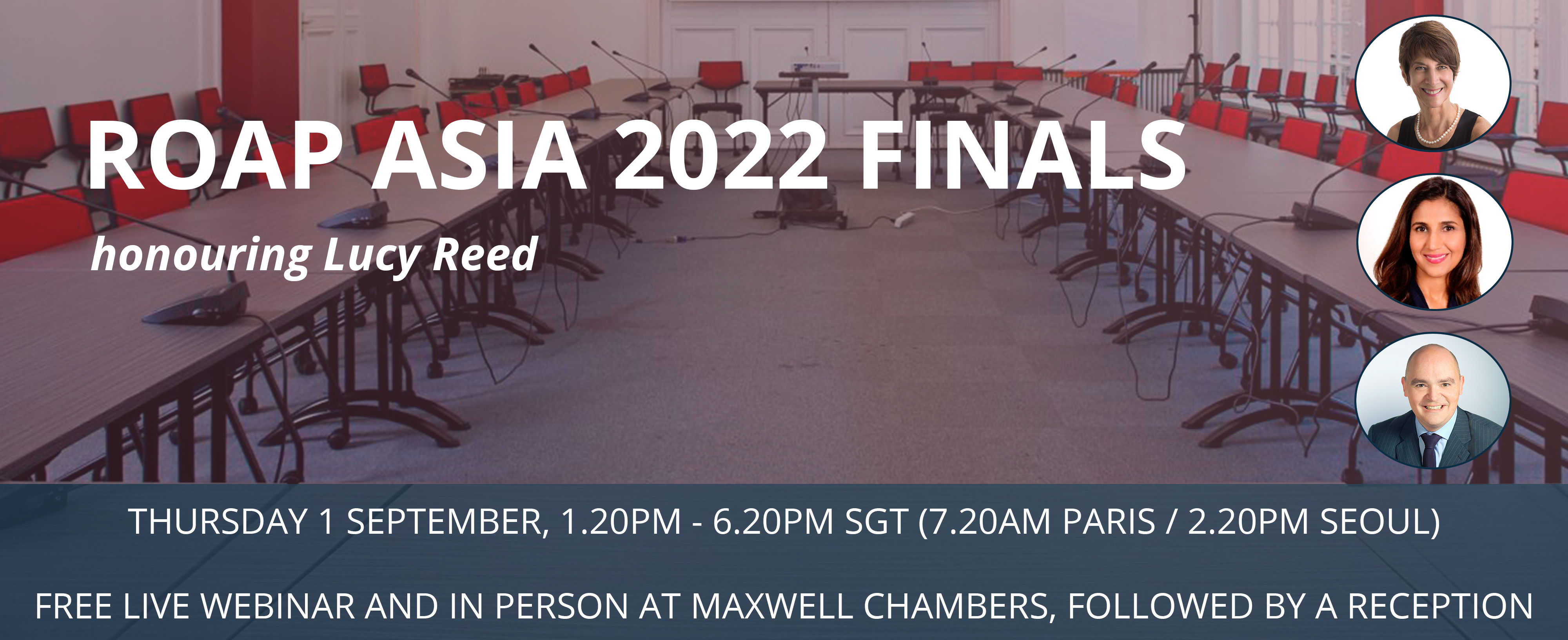 Date
01 September 2022
Expired!
Time
CEST
7 h 20 min - 12 h 20 min
ROAP Asia 2022 Finals – 1 September 2022
The ROAP Asia Finals brought to a close our advanced remote oral advocacy and cross-examination courses, by featuring the most persuasive and skilled participants on each course.
The outcome of the finals was determined by a panel of world-class arbitrators consisting of Lucy Reed (President), to whom the ROAP Asia 2022 edition was dedicated, Sapna Jhangiani QC and Nicholas Lingard.
The winners were: Rebecca James and Rebecca Ruthven for the cross-examination course, and Joonhak Choi and Tze Siong Ang for the oral submissions course. The other finalists were: Gavin Neo and Jerome Tang for the cross-examination course, and Daae Kim and Pushkar Keshavmurthy for the oral submissions course.
You will find short bios of our finalists and tribunal members below.
The ROAP Asia Finals 2022 were generously sponsored by Accuracy and Maxwell Chambers and an official event of the Singapore Convention Week 2022 (find out more about this below).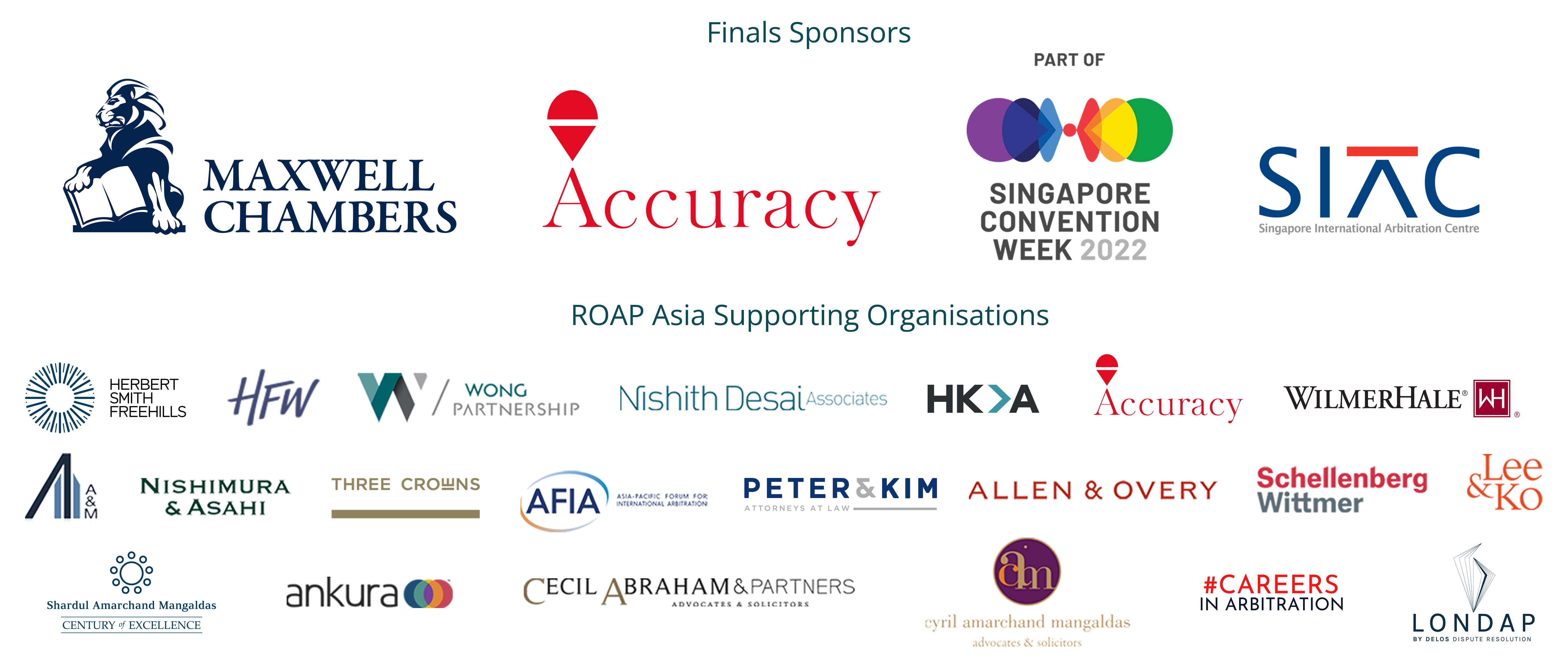 THE ROAP ASIA 2022 FINALS TRIBUNAL
Lucy Reed (President) is an arbitrator based in New York, specializing in investor-State and complex international commercial disputes. She is President of the International Council for Commercial Arbitration (ICCA) and the Singapore International Arbitration Centre Court, having formerly served as a Vice President of the ICC Court, President of the American Society of International Law, the Chair of the Institute for Transnational Arbitration (ITA), and a member of the LCIA Court and the HKIAC Board. From 2016 through 2019, Professor Reed was the Director of the Centre for International Law and a Professor on the Law Faculty of NUS. From 1998 until 2016, she was a Partner with Freshfields Bruckhaus Deringer, where she led the global international arbitration group and represented private and public clients in high-stakes international disputes. Before Freshfields, Professor Reed was General Counsel of the Korean Peninsula Energy Development Organization, in which capacity she led negotiations with North Korea, and a senior attorney with U.S. State Department and U.S. Agent to the Iran-United States Claims Tribunal in The Hague.
Sapna Jhangiani QC has over two decades' experience as Counsel or arbitrator in commercial disputes seated in diverse jurisdictions such as London, Paris, Hong Kong, Singapore, Dubai, Malaysia, the Cayman Islands and Mauritius. Sapna has practised in London, New York, Dubai and Singapore and is dual-qualified as an English barrister, and an advocate and solicitor of the Supreme Court of Singapore. She has appeared before a wide spectrum of Tribunals, including the UK House of Lords, International Commercial Courts at first instance and appellate level, and the Supreme Court of Singapore. She is currently International Legal Counsel at the Attorney-General's Chambers, Singapore, alongside which she maintains a practice as arbitrator and mediator. Sapna is a Fellow and Chartered Arbitrator of the Chartered Institute of Arbitrators, and is Chair of the Singapore Branch of the Institute. She is also an editor of Investor State Law Guide, and a Vice Chair of the ICC Commission on Arbitration and ADR. She is ranked in all the main legal directories, and was named by Asia Law Business Journal as one of the top 15 female lawyers in Asia.
Nicholas Lingard is a partner at Freshfields Bruckhaus Deringer in Singapore, and heads the firm's international arbitration practice in Asia. He leads one of the most active treaty arbitration practices in Asia, representing both investors and states in high-profile, politically complex cases around Asia and the world. Nick also represents clients in commercial and construction disputes across a variety of industries, under all major arbitral rules, including ICSID, ICC, SIAC, UNCITRAL, HKIAC, AIAC, JCAA, AAA and NAI, and under all major systems of law. He provides public international law advice to sovereign and private clients, and accepts occasional appointments as arbitrator. Nick is recognised as a leading international arbitration practitioner by all the major directories. He is ranked in Band 1 for international arbitration in Singapore by Chambers & Partners and as a "Leading Individual" for international arbitration in Singapore by Legal 500. The directories variously note that "his reputation is fully justified", "his knowledge is vast and supreme" and "his advocacy is tremendous". A former law clerk to the Chief Justice of Australia, Nick was educated at the University of Queensland and Harvard Law School, where he was a Frank Knox Memorial Fellow, and is qualified to practise in New York and New South Wales, Australia. He is the co-author of the second edition of A Guide to the SIAC Arbitration Rules (Oxford University Press, 2018). Nick speaks English and Japanese.
THE ROAP ASIA 2022 FINALISTS
Rebecca James is a Managing Associate in Linklaters' dispute resolution team in London, specialising in international commercial and investment arbitration and international law. She has considerable experience representing clients in investment arbitrations, international commercial arbitrations (arising under most of the major institutional rules and in ad hoc arbitrations) and cross-border litigation in the UK courts, and providing strategic advice on foreign proceedings, across a wide range of sectors and regions. She also has experience advising clients on boundary issues, law of the sea, international trade law and sanctions. Rebecca is dual-qualified in Victoria, Australia and England & Wales, and has co-lectured at Queen Mary University of London in investment arbitration and international law. She has been named as a key lawyer for Linklaters in international arbitration, public international law and commercial litigation by the Legal 500 UK.
Choi Joonhak is an attorney at Kim & Chang's International Arbitration & Cross-Border Litigation Practice where he focuses on international commercial and international investment treaty arbitration. He has represented clients in complex international disputes under various arbitral rules (including the ICC, SIAC, KCAB, and UNCITRAL rules). His experience spans a broad range of fields, including energy, construction, insurance, private equity, distributorship and pharmaceuticals. Joonhak received his J.D. from Seoul National University, School of Law and his undergraduate degree in economics also from Seoul National University. He is admitted to the Korean bar and speaks English, Japanese and Korean.
Daae Kim is a foreign attorney at Peter & Kim in Seoul and represents clients on a wide variety of international commercial and investment treaty dispute. Daae has acted as counsel in arbitrations conducted under the auspices of various institutions, including the ICC and SIAC, as wells as ad hoc proceedings under the UNCITRAL arbitration rules. Her practice includes disputes involving breaches of contracts, shareholder disputes, private equity, construction, pharmaceuticals, and insurance. In addition to her international arbitration work, Daae regularly advises clients in public international law and international trade law matters. Daae's previous legal experiences include working as a legal intern at the ICSID Secretariat in Washington D.C. and at Shearman & Sterling LLP where she assisted International Arbitration team in Singapore, and working as an intern to The Honorable Charles N. Brower, an independent arbitrator.
Pushkar Keshav is an LLM Candidate (Merit Scholar) at Georgetown University, Washington D.C. in International Legal Studies course with a Certificate of Specialization in International Arbitration and Dispute Resolution. He worked as a Case Manager at the Mumbai Centre for International Arbitration (MCIA) and prior to joining the MCIA, he practiced commercial litigation and arbitration in India. He's an accredited Commercial Mediator and a Fellow at the Global Policy Diplomacy and Sustainability organization (GPODS).
Gavin Neo is a Senior Associate in the Specialist & Private Client Disputes Practice at Wong Partnership in Singapore. Gavin's main areas of practice are civil litigation, which includes fraud related, corporate/commercial and infrastructure disputes, and criminal litigation. His criminal litigation practice covers global corporate investigations, white collar and general offences. Gavin graduated from King's College London, University of London, and was admitted to the Singapore Bar in 2016.
Rebecca Ruthven is a Senior Consultant in HKA's Forensic Accounting and Commercial Damages practice and a qualified ICAEW chartered accountant. She has over eight years' experience in the financial industry advising on a range of cases including commercial disputes, including cross border disputes and arbitrations, investigations and valuations. Her experience includes performing analysis, constructing financial models and preparing expert witness reports. She has worked across a range of sectors, assisting experts in arbitrations, court proceedings, and mediation.
Jerome Tang is a Manager in Accuracy with more than 8 years of experience in business valuations, financial due diligence and lost profit assessments. He has been involved extensively in engagements across Asia, Australasia, Europe and the Middle East. His experience spans a wide range of industries, which include software, telecommunications, healthcare, chemicals and high-end luxury.
Ang Tze Siong is an associate in A&O Singapore's international arbitration team. He is qualified in Singapore and England & Wales. Tze Siong has represented clients in various international commercial arbitrations involving the energy, telecommunications, financial, intellectual property and private equity sectors, under various rules including the SIAC, HKIAC, ICC, UNCITRAL and AAA rules. He also regularly advises clients in respect of their investment treaty rights and protections. Before joining A&O, Tze Siong clerked for the Supreme Court of Singapore under both High Court and Court of Appeal judges. Tze Siong graduated from the National University of Singapore with First Class Honours and has an LLM from New York University.
THE SINGAPORE CONVENTION WEEK
The Singapore Convention Week (SC Week) 2022 was held from 29 August to 2 September 2022. Organised by the Singapore Ministry of Law, in collaboration with partner organisations, SC Week 2022 featured a week-long series of legal and dispute resolution-related events where leading experts from legal, business and government sectors around the world will come together to explore new opportunities amid current challenges and discuss creative ideas and innovative solutions. They shared their views on issues including investor-state dispute settlement, dispute resolution in relation to the digital economy, various specialised fields, and climate change amongst others.
**
Find out more about the ROAP programme here.