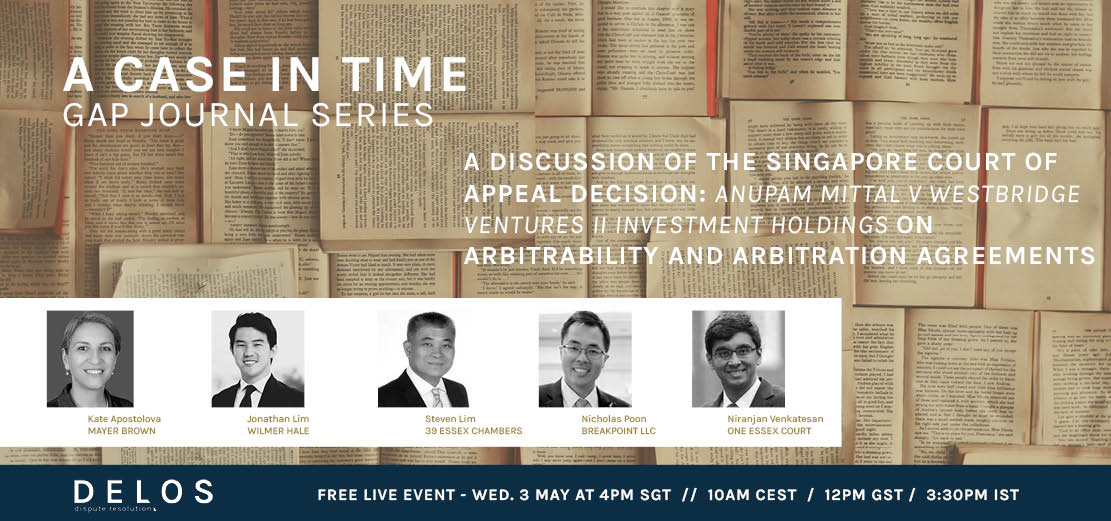 Date
03 May 2023
Expired!
Time
CEST
10 h 00 min - 11 h 30 min
GAP JOURNAL SERIES – Anupam Mittal v Westbridge Ventures II Investment Holdings
Join us on Wednesday 3 May at 4pm SGT for an in-depth 90mn discussion of the Singapore Court of Appeal decision: Anupam Mittal v Westbridge Ventures II Investment Holdings (see here) on laws governing arbitrability and arbitration agreements, in our 'A Case in Time' journal series. This judgment was nominated by GAR among the most important arbitration-related decisions rendered in 2022- 2023.
The speakers for this episode will include Kate Apostolova (Mayer Brown), Steven Lim (39 Essex Chambers), Nicholas Poon (Breakpoint LLC), Niranjan Venkatesan (One Essex Court), with Jonathan Lim (WilmerHale) moderating (short bios of the speakers below). You can find out more about arbitration in Singapore from the GAP chapter authored by Shearman & Sterling.
Register here for this episode and other Delos news:
ABOUT THE GAP AND THE SPEAKERS
The Delos Guide to Arbitration Places (GAP) is designed to assist in-house counsel, corporate lawyers and arbitration practitioners with efficiently accessing key insights into a large range of jurisdictions, including for the purposes of negotiating the choice of arbitral seats and conducting arbitral proceedings in those jurisdictions.
This peer-reviewed open access publication is now in its second edition. Browse the table of contents, explore the jurisdictions covered in the GAP or jump to the traffic lights table.
Kate Apostolova is counsel in the International Arbitration practice in Mayer Brown's Singapore office. Kate has extensive experience in international investor-state arbitrations, commercial arbitrations and international litigation proceedings. She has represented clients in a wide-range of industries, including oil & gas, mining, nuclear power, construction, finance, private equity, pharmaceuticals, technology. She has appeared as oral advocate and been involved in cases before all major arbitral institutions, the US courts, ICTY, ECHR, and ITLOS. Kate has also been appointed as arbitrator in institutional and ad hoc arbitrations and is a certified mediator. Kate is recognised in all major legal directories, including ranked no. 1 in Who's Who Legal's "Most Highly Regarded" list of international arbitration practitioners in Asia-Pacific for 2020, named a 2021 Rising Star by Law360, recognised in Chambers Global 2022, and listed in the Legal 500's The Arbitration Powerlist: Southeast Asia 2022.
Jonathan Lim is Partner at WilmerHale in London. He has represented governments and private corporations in commercial and investment arbitrations under all major arbitration rules sited across Africa, Asia, Europe and South America. He has also advised governments in Africa and Asia on a range of public international law issues and the drafting of arbitration legislation. In addition to his practice as counsel, Jonathan has a developing practice as an arbitrator, with appointments as sole and party-appointed arbitrator in proceedings seated in Europe and Asia. Jonathan also co-teaches a course on international arbitration at the National University of Singapore each January. He is listed in Who's Who Legal as a Future Leader in International Arbitration as one of ten "most highly regarded" individuals in Europe, the Middle East, and Africa. He has been described in directories by clients and peers as "a very smart all-round lawyer with a strong work ethic," "extremely capable and hardworking," and "a sure bet as a future global leader."
Steven Lim is an arbitrator and barrister. He has over 80 appointments as presiding, sole, co-arbitrator and emergency arbitrator, seated in Singapore, England, USA, India, South Korea, Thailand and Vietnam. He is also instructed as lead counsel in arbitrations. He has extensive experience with SIAC, ICC, ICDR, SCMA, KCAB, UNCITRAL Rules, and ad hoc cases involving Asia-Pacific jurisdictions and farther afield, with parties from Singapore, India, People's Republic of China, Hong Kong, Taiwan, South Korea, Japan, Malaysia, Indonesia, Thailand, Vietnam, Cambodia, Myanmar, Philippines, Brunei, Mongolia, Sri Lanka, Nepal, Saudi Arabia, Rwanda, Peru, USA, UK, Italy, Germany, Switzerland, Netherlands, Denmark, Hungary, Russia and Australia, in a broad range of commercial disputes including mergers and acquisitions, joint ventures, share options, agency, licensing, internet gaming, hotel management, commodities, oil and gas, energy, refund guarantees, performance bonds, ship and rig building, offshore engineering, and construction. Steven is recommended as "the perfect arbitrator", "he is always on top of his cases and has a very good judgment and excellent manner", "a fair-minded and extremely capable arbitrator", "an outstanding up-and-coming superstar with a nice and sensible manner", "a highly respected figure across the gamut of APAC-related commercial disputes", and "an excellent counsel with excellent understanding of law and great commercial insight".
Nicholas Poon is a commercial disputes lawyer. He is the founder of Breakpoint LLC, a Singapore disputes-only boutique. Nicholas began his legal career as a law clerk to the Judges of the Supreme Court under the prestigious Justices' Law Clerk programme. He was then appointed to the position of assistant registrar of the Supreme Court. As a JLC, Nicholas worked closely with the Judges of the High Court and Court of Appeal on a wide range of civil and criminal cases. As assistant registrar, Nicholas adjudicated numerous interlocutory applications, mainly of a commercial nature. Between his time with the Supreme Court and founding Breakpoint, Nicholas practised at Drew & Napier where he rose to the position of Associate Director. Since its founding in 2018, Breakpoint has grown from strength to strength and now counts international banks, global MNCs, listed companies from around the world, state-owned enterprises, international law firms, and high net worth individuals and families as its clients. Nicholas is instructed primarily in disputes of a commercial nature, including in the areas of banking, joint venture, shareholder, construction and trust and property, many involving cross-border elements foreign legal systems. He has appeared as lead counsel at all levels of the Singapore court system, including in the Court of Appeal. In international arbitration, he has acted as counsel and arbitrator. Nicholas also regularly undertakes probono criminal and civil legal work for the underprivileged. Nicholas publishes regularly in Singapore and international journals. His works have been cited by the Singapore Courts and commentators around the world. Nicholas is one of the authors of Singapore's first comprehensive textbook on international commercial arbitration. Nicholas also previously taught conflict of laws and commercial arbitration, among other subjects.as an adjunct faculty member in the Singapore Management University.
Niranjan Venkatesan is a barrister at One Essex Court. Niranjan has a busy commercial practice. He came to the attention of the legal directories at an unusually early stage (around three years call) and has, in particular, substantial appellate experience, having appeared on numerous occasions in the Supreme Court and the Court of Appeal in cases involving complex and important questions of law. He has also acted in high-value cases in the Commercial Court and the Chancery Division and in international arbitration; and he regularly appears as sole counsel in the High Court and various County Courts. Before coming to the Bar, Niranjan read and taught law at Oxford, where he was a Vinerian, Eldon and Rhodes Scholar.