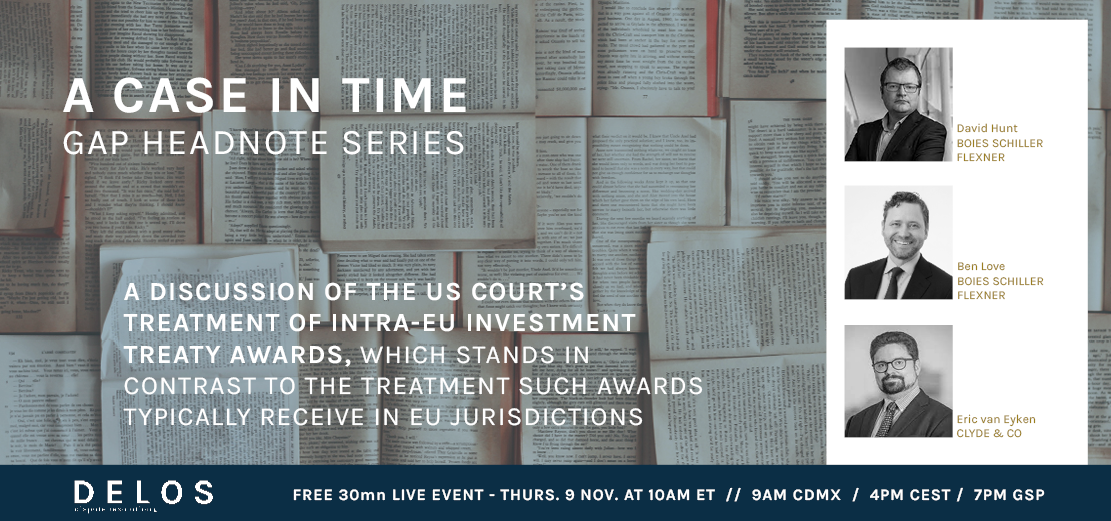 Date
09 November 2023
Expired!
Time
CEST
16 h 00 min - 16 h 30 min
GAP HEADNOTE SERIES – New York and D.C. (by Boies Schiller Flexner)
Join us on Thursday 9 November at 10am ET (until 10.30am ET) for an interactive discussion of the US court's treatment of intra-EU investment treaty awards, which stands in contrast to the treatment such awards typically receive in EU jurisdictions, in our 'A Case in Time' headnote series.
Ben Love and David Hunt of Boies Schiller Flexner, the authors of the GAP chapter on USA – New York and Washington D.C., will consider the following cases in relation to the topic: (i) Ioan Micula, Viorel Micula, S.C. European Food S.A, S.C. Starmill S.R.L. and S.C. Multipack S.R.L. v. Romania [I], ICSID Case No. ARB/05/20, (ii) 9REN Holding S.a.r.l v. Kingdom of Spain, ICSID Case No. ARB/15/15, and (iii) NextEra Energy Global Holdings B.V. and NextEra Energy Spain Holdings B.V. v. Kingdom of Spain, ICSID Case No. ARB/14/11, followed by comments from Eric van Eyken of Clyde & Co. (short bios of the speakers below) and a Q&A with the participants. Chatham House rules apply. The event chat will be open to facilitate networking and interaction.
You can submit advance questions that you would like the speaker to address to event@delosdr.org; you can find out more about Delos's Guide to Arbitration Places (GAP) here, and sign up for GAP news here; and do look up other forthcoming events in our Headnote and Journal Series.
Register here for this episode and other Delos news:
ABOUT THE GAP AND THE SPEAKERS
The Delos Guide to Arbitration Places (GAP) is designed to assist in-house counsel, corporate lawyers and arbitration practitioners with efficiently accessing key insights into a large range of jurisdictions, including for the purposes of negotiating the choice of arbitral seats and conducting arbitral proceedings in those jurisdictions.
This peer-reviewed open access publication is now in its second edition. Browse the table of contents, explore the jurisdictions covered in the GAP or jump to the traffic lights table.
David Hunt, his practice focuses on international arbitration, with a particular emphasis on investor-state disputes. He is a go-to lawyer for clients with complex international disputes. David has wide ranging experience of international commercial and investor-state arbitration across a range of industries. He has particular experience in the telecommunications and financial services industries. David acts as advocate in his cases, speaks regularly on arbitration-related issues, and has recently published an important commentary on the enforcement of arbitration awards in the English courts. He is described in the most recent edition of Legal 500 as "an extremely clever lawyer."
Ben Love, recognized as a global leader in international arbitration and public international law, Ben has represented clients in more than 50 commercial and investment disputes under all major arbitral rules, including some of the most high-profile matters submitted to international arbitration over the past decade. Ben has assisted clients in obtaining favorable settlements, securing awards in excess of $1 billion on multiple occasions, and defeating several attempts to annul high-value ICSID awards. His disputes work across the globe spans the gamut of major industry sectors, with particular emphasis on energy, mining, technology, and aerospace. Ben has been recognized as a highly regarded practitioner for international arbitration by numerous publications and directories, with sources commenting that he is "a rock star in his field," who is a "great talent," has "superb advocacy skills," and is "unparalleled in investment law matters." He has also been "singled out by peers and clients as 'the consummate advocate' thanks to his 'encyclopaedic knowledge of international investment law, strong strategic awareness and relentless focus on securing the best outcome for his clients.'" Ben speaks English and French, and reads Spanish.
Eric Van Eyken, is Senior Counsel at Clyde & Co. He gained extensive experience in domestic and international commercial arbitration acquired at global and boutique law firms in Paris, Toronto, Miami, and Brussels, where some of the top international practitioners mentored him. At Clyde, he also handles a broad spectrum of advice and litigation work for insurers on complex coverage matters, particularly on matters of cyber risk. Eric completed an LL.M. on full scholarship from the International Council for Commercial Arbitration (ICCA), at the University of Miami. He holds both common and civil law degrees, with distinction, from McGill University, along with a B.A. in economics and honours political science. He was called to the Quebec Bar and the Law Society of Upper Canada in 2011 and to the New York Bar in 2015. In addition to his practice, Eric has coached various university moot court programs and is a frequent lecturer on commercial arbitration."