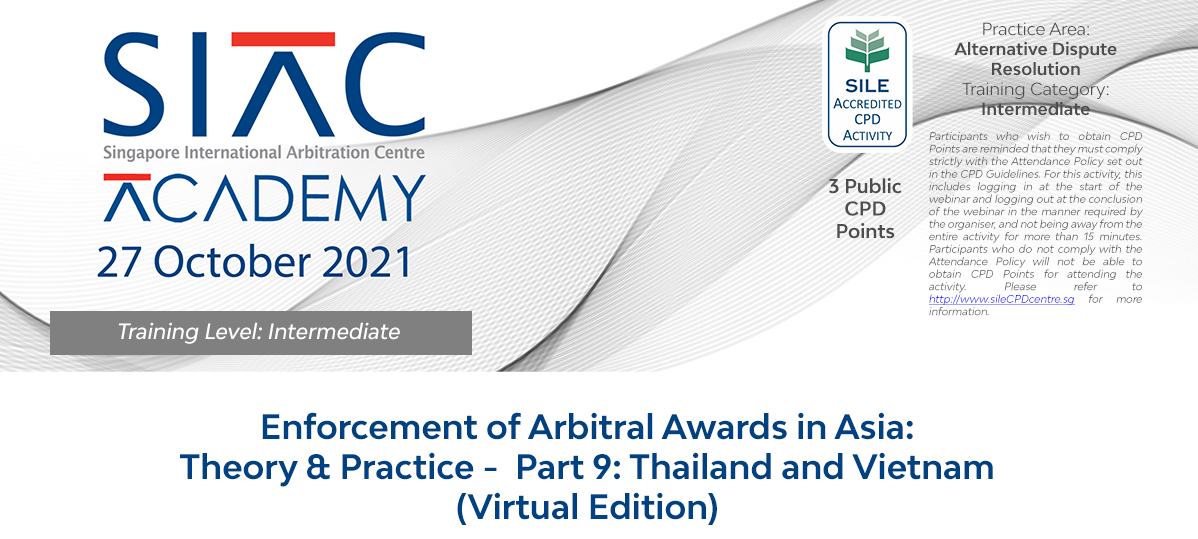 Time
CEST
9 h 00 min - 12 h 00 min
SIAC Academy Course: Enforcement of Arbitral Awards in Asia: Theory & Practice – Part 9: Thailand and Vietnam
The efficacy of arbitration as an effective dispute resolution mechanism depends to a large extent on whether the integrity of the award will be protected by the national courts in enforcement and annulment proceedings and treated as final and binding save in limited circumstances.
The "Enforcement of Arbitral Awards in Asia: Theory & Practice" series seeks to provide an overview of the arbitration law in different jurisdictions in Asia, with a focus on the theory and practice of the enforcement of arbitral awards in these jurisdictions. The definition of an "arbitral award", the grounds for non-enforcement of awards, the grounds for annulment of awards, as well as the national court's attitude and approach in applying these grounds, will be examined. Some of the practical aspects on strategies that a foreign party seeking to enforce an award in that jurisdiction should take, as well as identification of assets of an award debtor within these jurisdictions will also be discussed.
In the ninth instalment of this 10-part series, we focus on the theory and practice of enforcement of awards in Thailand and Vietnam.
Join SIAC for the above event on 27 October at 9am CEST/ 3pm SGT. Register here.