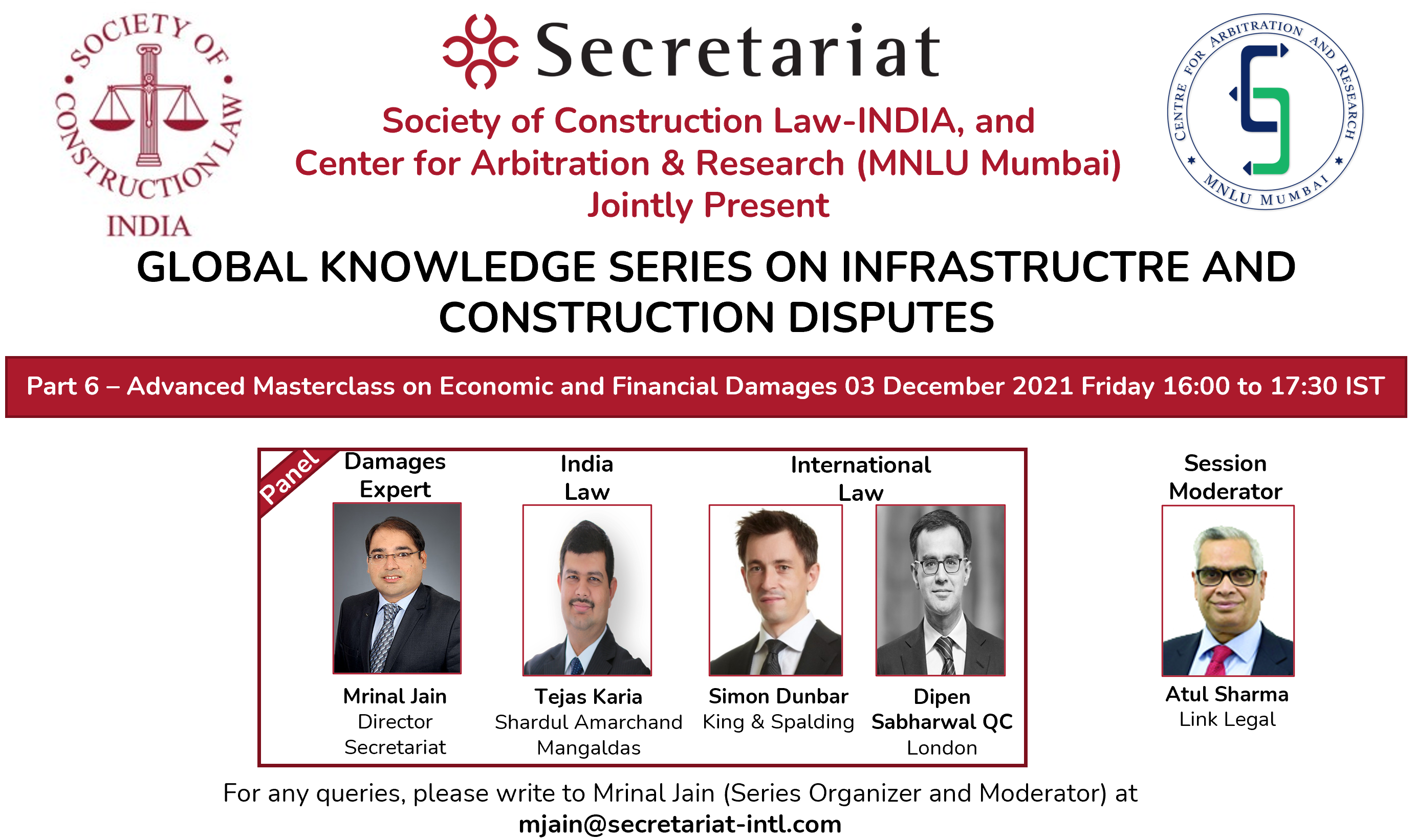 Date
03 December 2021
Expired!
Time
CET
11 h 30 min - 13 h 00 min
Secretariat's Global Knowledge Series on Infrastructure and Construction Disputes – Part 6 Advanced Masterclass on Economic and Financial Damages
We are glad to announce that more than 2,200 Attendees have confirmed for this Global Knowledge Series that will run from 03 September 2021 to 17 December 2021.
Please join Part 6 of this series Advanced Masterclass on Economic and Financial Damages on Friday 3 December 2021 at 4pm IST / 11.30am CET.
Secretariat, Society of Construction Law – India and Centre for Arbitration and Research, MNLU Mumbai invite you to attend the Global Knowledge Series on Infrastructure and Construction Disputes with the objective to contribute international best practices to the dispute resolution process. This is part of Secretariat's Inauguration Knowledge Series to launch its's practice in India with Mrinal Jain and includes a total of Seven Academic Sessions of 90 minutes each triangulating various aspects of infrastructure and construction disputes related to time, cost and damages as observed in international arbitration and investment treaty arbitration.
Find out more and register here.
The panelists include renowned international arbitrators, senior lawyers and senior advocates (in India) who have kindly agreed to come on board along with Secretariat experts for sharing their global experience and expertise on the subject matter:
Neil Kaplan QC, Sir Vivian Ramsey, Mohan R Pillay from Pinsent Masons, Anthony Houghton, Russell Thirgood, Dipen Sabharwal QC from White & Case LLP, Steven Finizio from WilmerHale, Wade Coriell from King & Spalding, Gaurav Pachnanda SA, Gourab Banerji, Ciccu Mukhopadhyay, Fereshte Sethna from DMD Advocates , Tejas Karia, FCIArb from Shardul Amarchand Mangaldas & Co, Niti Dixit from S&R Associates, Amit Mishra from P&A Law Offices, Ratan K. Singh, Vyapak Desai from Nishith Desai Associates, Sanjeev Kapoor from Khaitan & Co, Pauline Low from SIAC, Hemant Sahai from HSA Advocates, Shaneen Parikh from Cyril Amarchand Mangaldas, Atul Sharma from Link Legal , Debarshi Dutta from Solaris Legal and Chirag Balyan.
For any queries, please write to Mrinal Jain at mjain@secretariat-intl.com
Secretariat Experts include Amit Garg, Mike Allen, Paul Roberts, Howard Rosen, Kiran Sequeira, Chaitanya Arora and Mrinal Jain.
Supporting Partners include Singapore International Arbitration Centre, International Chamber of Commerce India – ICC India, HKIAC, Swiss Arbitration Centre (former SCAI), Resolution Institute, Mumbai Centre For International Arbitration, Asian International Arbitration Centre , Bali International Arbitration and Mediation Center (BIAMC), Shenzhen Court of International Arbitration, CIArb India Branch, The Mediation and Arbitration Center (Mauritius) – MARC, ENERAP/Energy Related Arbitration Practitioners and Indian Arbitration Forum.
Technology Partner is CORD courtesy Vikas Mahendra.