Date
11 January 2018
Expired!
Time
8 h 30 min - 10 h 00 min
Delos-Y Breakfast – Paris 18 Jan. 2018
On 11 January 2018 took place the first Delos-Y event (initially known as The Mids). This innovative event concept gives the floor to a new generation of arbitration practitioners, namely 'mid-level' associates. Further information on the event concept and format is available here. The event was oversubscribed.
The speakers at the event (pictured below) were Marie Bouchard of Dechert, Ophélie Divoy of DLA Piper, Stefan Dudas of Derains & Gharavi, Laura Fadlallah of Bredin Prat, Samy Markbaoui of White & Case, Joséphine Neveux of Quinn Emanuel, Tejas Shiroor of Lazareff le Bars and Chloé Vialard of Shearman & Sterling. They addressed two topics in the group discussions:
Drafting effectively: Lessons from the Middle Earth
MID-life: crisis or bliss? Challenges and opportunities for mid-level associates
The event was moderated by Janice Feigher of Norton Rose Fullbright and Jérémie Kohn of Quinn Emanuel (pictured below). It was generously supported by Norton Rose Fullbright.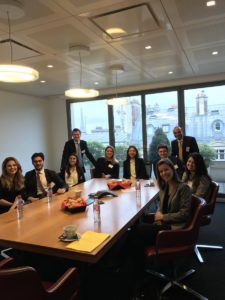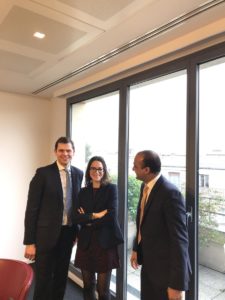 ___
Original invitation in French
Delos Dispute Resolution, en coopération avec le cabinet Norton Rose Fulbright, est particulièrement heureux de vous inviter à la première édition de The Mids.
Delos est une institution d'arbitrage indépendante qui s'est donnée pour but de réduire les risques commerciaux, en favorisant l'efficacité de temps et de coûts dans la résolution des différends par l'arbitrage. Delos propose une approche innovante qui allie qualité et flexibilité.
En lien avec la philosophie de Delos, The Mids est un concept novateur qui donne la parole à une nouvelle génération de praticiens de l'arbitrage ayant déjà quelques années d'expérience, les « mid-levels », pour qu'ils puissent faire part de leur expérience particulière de ces premières années d'exercice et débattre avec ceux qui seront bientôt leurs futurs collègues.
The Mids est conçu pour les étudiants (niveau Master 2 minimum) et stagiaires qui se destinent à une carrière en arbitrage international, afin de leur donner l'opportunité de rencontrer des mid-levels exerçant dans les cabinets les plus prestigieux, que ce soit dans de grandes structures ou des « boutiques » et d'échanger avec eux sur leur quotidien.
Afin de favoriser un dialogue à bâtons rompus, The Mids propose ainsi à quatre groupes de 6 à 8 étudiants de partager un petit déjeuner avec 2 mid-levels qui interviendront sur deux thèmes :
Drafting effectively:
Lessons from the Middle Earth
MID-life: crisis or bliss? Challenges and opportunities for mid-level associates
Pour cette première édition, les intervenants seront : Marie Bouchard (Dechert), Ophélie Divoy (DLA Piper), Stefan Dudas (Derains & Gharavi), Laura Fadlallah (Bredin Prat), Samy Markbaoui (White & Case), Joséphine Neveux (Quinn Emanuel), Tejas Shiroor (Lazareff le Bars), Chloé Vialard (Shearman & Sterling).
Les débats seront modérés par : Janice Feigher (Norton Rose Fulbright) et Jérémie Kohn (Quinn Emanuel).
Un temps de networking rassemblant l'ensemble des participants est prévu à l'issue des débats.
Nous espérons vous voir nombreux à cet évènement, qui se tiendra le jeudi 11 janvier 2018 de 8h30 à 10h00, dans les locaux de Norton Rose Fulbright, au 40 rue de Courcelles, 75008 Paris.
Pour vous inscrire et recevoir les nouvelles de Delos, cliquez sur le lien ci-dessous : [ ].
Nous vous prions de noter que le nombre total de participants à cet évènement est limité à 32. Les places seront attribuées selon le principe général « first come, first served » ; Delos se réserve toutefois la possibilité de limiter le nombre de participants par institution (université d'origine ou cabinet) pour permettre une participation aussi diversifiée que possible.