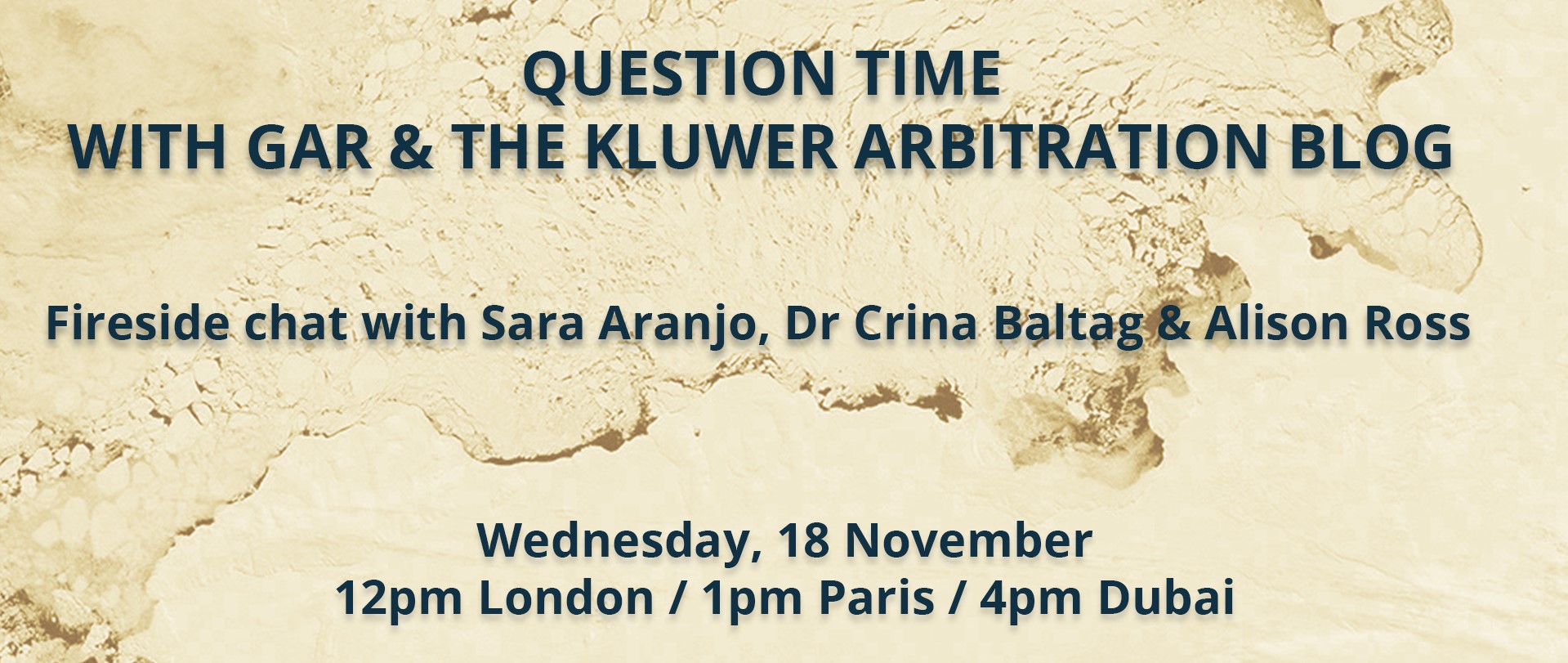 Date
18 November 2020
Expired!
Time
13 h 00 min - 14 h 00 min
Question Time with GAR and the Kluwer Arbitration Blog
The "Question Time with GAR and the Kluwer Arbitration Blog" – a fireside chat and Q&A took place on 18 November 2020 as part of the GAP Symposium and featured (bios below):
Sara Aranjo (Al Tamimi, Abu Dhabi & Dubai / GAP Regional Editor)
Dr Crina Baltag (Kluwer Arbitration Blog), and
Alison Ross (Global Arbitration Review)
The recording is available here.
Find out more here about the GAP and sign up here for news relating to the jurisdictions covered in the GAP.

ABOUT OUR SPEAKERS
Sara Aranjo is a civil and common law qualified lawyer based in the Dubai office of Al Tamimi & Company, the largest law firm in the Middle East. She regularly advises and represents clients in arbitration proceedings and arbitration-related court proceedings, including recognition, enforcement and set aside proceedings. Sara is an Adjunct Professor of Law at the Université Paris II – Panthéon-Assas. Sara is a member of several professional organizations. She is appointed as a Member of the ICC Commission on Arbitration & ADR and its Task Force on Arbitration & ADR, the IBA Subcommittee on International Arbitration Case Law and the DIFC Courts' Arbitration Division Working Group. Sara is featured in Who's Who Legal – Arbitration and is the recipient of the Middle East Rising Star Lawyer of the Year Award (2019) by the Association of Corporate Counsel. Sara is admitted to the New York, Paris and Beirut Bars. She speaks English, French and Arabic.
Dr Crina Baltag is Senior Lecturer in International Arbitration at Stockholm University and qualified attorney-at-law with extensive practice in international dispute resolution. Crina is member of the Stockholm Chamber of Commerce Arbitration Institute (SCC) Board, the editor of Kluwer Arbitration Blog, co-managing editor of ITA Arbitration Report and member of editorial boards of prestigious journals in the field, including of the Journal of International Arbitration. Crina has been appointed in numerous arbitrations, as sole arbitrator and co-arbitrator under the rules of the ICC, LCIA, SIAC etc.
Alison Ross graduated with a 1st class degree from Christ Church, Oxford, and went on to practise – miserably – at the London Bar, handling a variety of civil law and criminal law cases. She later made the switch to journalism and, working for the newly founded Global Arbitration Review, was delighted to find that her job took her to Singapore, Rio and Mauritius rather than to dismal English county court buildings on the edge of shopping precincts. She has been GAR's Editor since 2010 and continues to write for the publication as well as edit her team members' work. She has also written for London's Evening Standard.