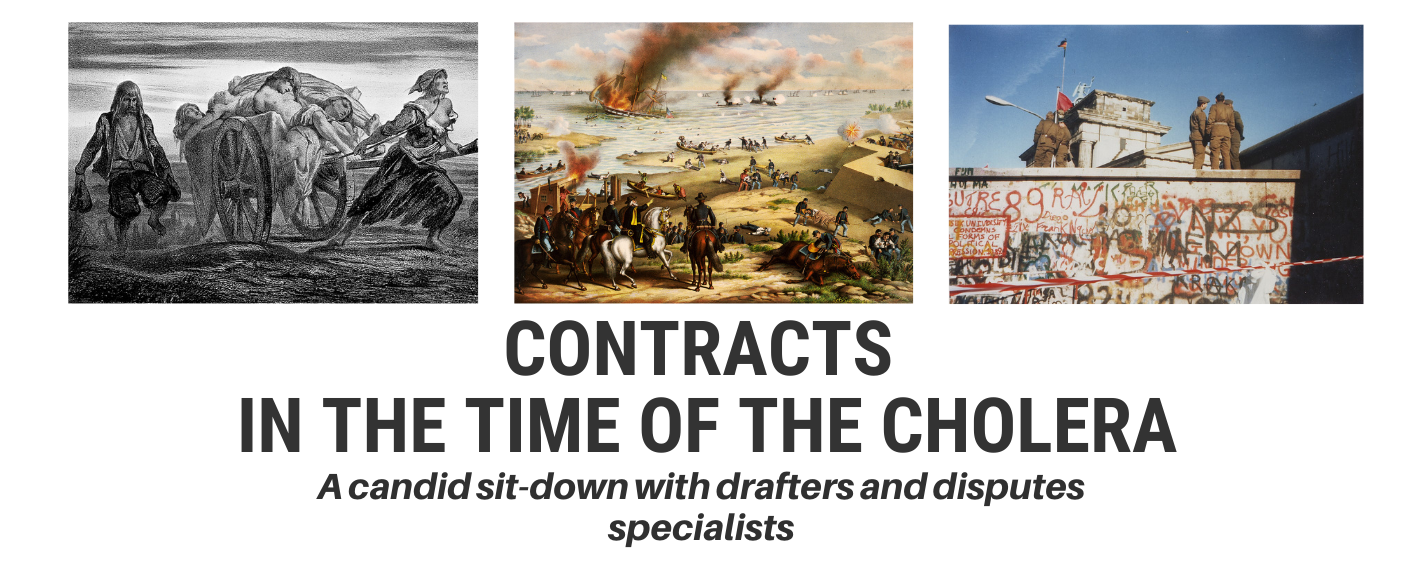 Date
22 November 2022
Expired!
Time
17 h 00 min - 19 h 00 min
Contracts in the time of the Cholera
Join us for "Contracts in the Time of the Cholera", an event jointly organised by Consortium Legal and Delos Dispute Resolution, on Tuesday 22 November 2022, at 5pm CET. This hybrid event will be held online, as well as at the Bucharest office of Consortiu, legal, at 33 Aviatorilor Bld, Bucharest.
Can force majeure ever prevent you from paying the price? Can you ever draft your way of changes in all foreign laws? Do counterparties even have a common purpose that can be frustrated? Who pays when your counterparty becomes your country's enemy?
Enjoy the opportunity to hear our distinguished panel of disputes and contract specialists speaking out of New York, London, Paris and Bucharest on all these questions and more, in a candid sit-down about drafting and adjudicating contracts in "Interesting Times".
Register at stuffhappens@consortium.legal (limited seating capacity, please ensure you register early)
The event will feature the following speakers (short bios below):
Emilie Gonin (Brick Court Chambers in London)
Lucian Ilie (Outer Temple Chambers in London)
Adrian Iordache (Consortium Legal)
Edward K. Lenci (Hinshaw & Culbertson LLP)
Lindsay T. Reed (Carmody Torrance Sandak & Hennessey)
Alexandra Van Der Meulen (Counsel with Freshfields Bruckhaus Deringer)
ABOUT THE SPEAKERS
Emilie Gonin is a Senior Barrister with Brick Court Chambers in London as well as a French qualified lawyer. She teaches Investment Arbitration at Sciences Po Paris, and her interests span across the board from Human Rights to Commercial Arbitration. I have had the immense pleasure of working with Emilie during the past two years and she is intellectually as formidable as they come.
Lucian Ilie is an international public law and investment arbitration powerhouse and a Who's Who Legal "Future Leader". Lucian is now a Barrister with Outer Temple Chambers in London, after several years as a senior Solicitor with Reed Smith LLP in London and working for first tier firms in Paris. He acted in arbitration proceedings for clients worldwide and in a diversity of matters. Lucian is also qualified in Paris and Bucharest. Lucian is a tremendously sharp litigator with seemingly endless energy, and a very good friend.
Adrian Iordache is the Managing Partner at Iordache Partners. He is an international commercial lawyer with particular interests in business law, commercial disputes and international arbitration, as well as aviation law. Adrian is widely recognized as a pragmatic, business-first attorney, with a deep knowledge of both the international environment and local complexities. Adrian is a New York State and D.C. qualified attorney, a UK Solicitor and a Romanian avocat. He is also a Fellow of the Chartered Institute of Arbitrators in London. 
Edward K. Lenci is a Partner, Hinshaw & Culbertson LLP (NYC), a Certified Arbitrator and NYSBA House of Delegates and former Chair of the International Section. As one of the NYSBA leaders, he spearheaded un unprecedented push to internationalise NYSBA by forging word-wide alliances with local bar associations and spearheaded NYSBA's efforts in support of the Ukrainian people, which rightfully made the news on several occasions. He is a litigation powerhouse with a stellar track record and a true global leader of in the profession.
Lindsay T. Reed's practice focuses on civil and commercial litigation in state and federal courts and arbitration. She has experience representing clients in complex business and commercial disputes involving breach of contract, business torts and unfair trade practices, municipal property tax appeals, defense of legal malpractice claims and grievance complaints and across all aspects of litigation from commencing the action, conducting discovery through preparation and participation at trial.
Lindsay serves on the Executive Board of the Fairfield County Bar Association and will be the Vice President for 2022-2023 and on the board of directors of The Rowan Center, a counseling and support service for victims of sexual assault, as well as acting as chair for its governance committee.
Alexandra Van Der Meulen is a Public International Law expert and "Future Leader" in International Arbitration (Who's Who Legal has said it). She is now Special Counsel with Freshfields in Paris and she is also dually qualified in New York and Paris. She acted in many high-profile international law cases at the ICJ and not only. Not least, I've had the pleasure to be in the same cohort with Alexandra at UCL Laws, where, of course, she outshined most of us.