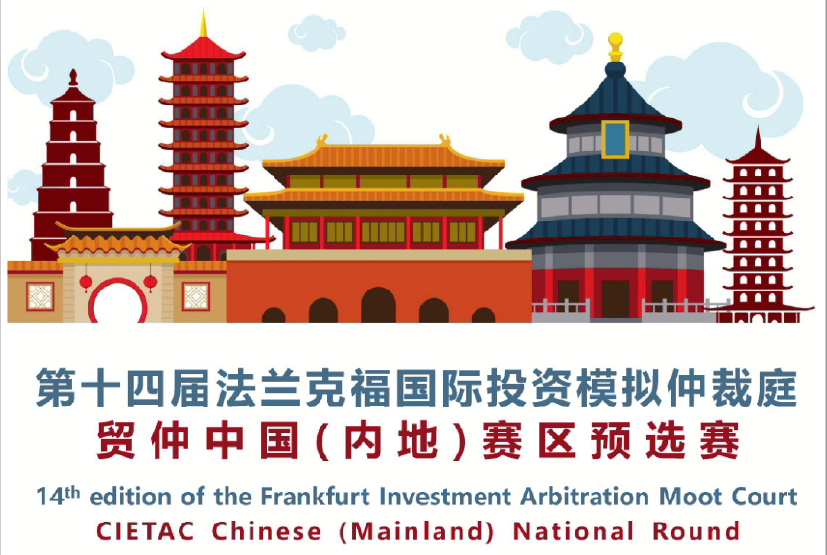 Date
19 - 21 January 2022
Expired!
Time
10:00-11:30 & 13:30-15:00 & 16:00-17:30
All Day
14th edition of the Frankfurt Investment Arbitration Moot Court-CIETAC Chinese (Mainland) National Round
Ongoing Call for Arbitrators/Judges and Sponsors!
The Frankfurt Investment Arbitration Moot Court (the Frankfurt Moot) is the most influential international arbitration moot court competition in the field of investment arbitration, and 13 editions of which have been successfully held since 2008. The United Nations Commission on International Trade Law (UNCITRAL), leading international arbitration institutions such as China International Economic and Trade Arbitration Commission (CIETAC), and renowned international arbitration media such as the Global Arbitration Review (GAR) are all perennial supporting organizations of the Frankfurt Moot. For more details about the Frankfurt Moot, please visit: https://www.investmentmoot.org.
In 2019, in response to the Belt and Road Initiative and with the strong support of the Department of Treaty and Law of the PRC Ministry of Commerce, CIETAC successfully held 28 warm-up sessions in China. In 2021, with official authorization, CIETAC further expanded the scale of the competition and successfully held the first national round in China virtually. A total of 39 teams from 33 law schools across China registered for the competition, and 71 practitioners in the field of investment arbitration including arbitrators, law professors and lawyers from multiple jurisdictions served as arbitrators/judges. The post-competition seminar and the award ceremony attracted more than 30,000 online viewers from countries and regions including China, Australia, Germany, France, South Korea, the Netherlands, Kuwait, the United States and Switzerland. These active responses turned the competition into the largest scale of its similar kind in China.
In 2022, CIETAC will continue to hold the 14th edition of the Frankfurt Investment Arbitration Moot Court – CIETAC Chinese (Mainland) National Round (the "Moot Court"), which will be conducted in English with a limit of 24 participating teams.
To assist the participating teams in better preparation for the competition and to cultivate a pool of outstanding practitioners in the field of international investment arbitration in China, the CIETAC International Arbitration Institute launched the "2021 Summer/Fall International Investment Arbitration Course" in late August this year and recorded over 400 registrations from those of CIETAC arbitrators, lawyers, in-house counsel, university teachers and students, and team members of the Moot Court across China.
The Moot Court and the Course have been announced in August 2021 and will be completed in late January 2022, with considerable continuity and influence.
We sincerely welcome you to register as Arbitrator/Judge!
Registration link: https://www.wjx.top/vj/wkA2JDw.aspx.
For enquiries on Sponsorship of and more information about the Moot Court, please contact us by:
Email: investmentmoot@cietac.org
Tele:+852 2529 8066
Fax: +852 2529 8266
Sincerely yours,
China International Economic and Trade Arbitration Commission